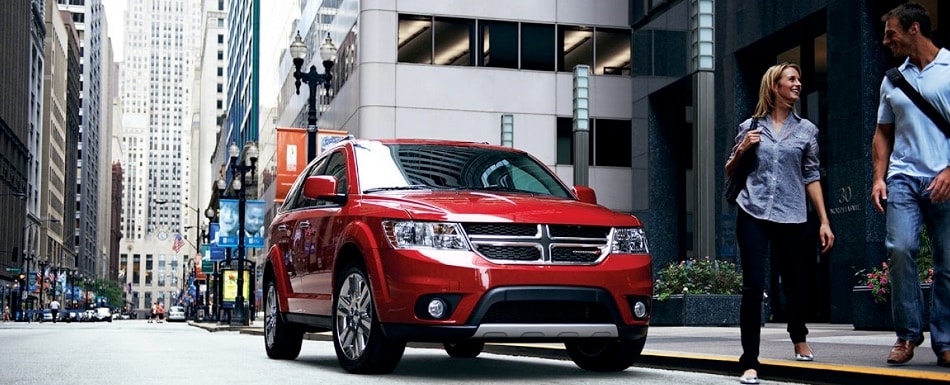 View New InventoryApply for FinancingContact Us
Purchasing a vehicle is a big decision and will have a large impact on you financially. That's why it's important to pick the best payment option for your lifestyle and budget. To assist you, the finance experts at our Chrysler, Dodge, Jeep, and Ram dealership in Festus, MO have put together this comprehensive review of auto financing versus auto leasing.
If you have any questions after reading our buying versus leasing guide below, don't hesitate to reach out to the Lucas-Smith finance team by calling (636) 725-0810 or by filling out our contact form.
What are Auto Financing and Auto Leasing?
When you decide to finance your vehicle, you are taking out a loan for the full amount the vehicle costs to purchase it. Auto financing is available for both new and pre-owned vehicles, and is often a much more flexible option that allows people on a tight budget or with poor credit to find a vehicle of their own.
Leasing a vehicle means you are "renting" a vehicle from the dealership for a specified amount of time and have monthly payments for your entire lease term. You do not own the vehicle and will have to return it at the end of your lease period. Leasing is also only available on new vehicles.
Auto Financing vs. Leasing Comparison
It's important to know the difference between financing and leasing before you make a big purchase. Depending on your lifestyle, budget, and personal preferences, one option may be the better choice for you.
Auto Financing
When you finance a vehicle, you are the owner. You can make modifications, drive it as much and as far as you'd like, and don't have to worry about wear and tear. Also, once you make your final monthly payment, you own the car outright. You can pocket the extra cash each month and enjoy the car for years to come.
A few drawbacks of financing a vehicle are larger down payments are required and you will have higher monthly payments. You'll also pay more in taxes and dealership fees. If you bought a new vehicle, once the manufacturer's warranty has ended, you'll be responsible for any and all maintenance and repairs your vehicle needs, including major components like the engine and transmission.
Auto Leasing
Leasing a vehicle is a great option for drivers who want to upgrade their ride to the newest model every few years, since lease agreements typically last three to four years. Monthly payments are often much lower because you are only paying for the value of the vehicle used during your lease period. Leasing also often requires smaller or even no down payments. Maintenance costs are much lower since the vehicle is under the manufacturer's warranty.
Before choosing to lease your next vehicle, keep in mind that leasing comes with mileage restrictions, typically 12,000 miles a year, and exceeding that limit will result in penalties. Because you do not own the vehicle, you can't make any modifications or add any upgrades. You will also need to keep the vehicle's cabin and exterior in very good condition. Excessive wear and tear will result in fees, and you will be responsible for any repairs needed to recondition the vehicle.
Finance Your Next Vehicle at Lucas-Smith CDJR

Whether you decide to finance or lease your next vehicle is ultimately up to you. At Lucas-Smith CDJR in Festus, MO, though, our passionate and knowledge team of finance experts is dedicated to helping you find the best possible payment plan for your budget and lifestyle. Our finance experts will be there every step of the way to guarantee you leave our Chrysler, Dodge, Jeep, and Ram dealership completely confident in your decision.
To learn more about our finance team, visit our finance center. Get a head start and apply for financing from the comfort of your own home using our secure online finance application. You can also get an estimate of what your monthly payments will be on a particular model from our inventory using our payment estimator tool.